Bodmin Moor
Upton Cross ACE Academy is situated on the edge of Bodmin Moor and it has a wealth of history, farming and mining industry. There are many opportunities created for our children to experience the moor and rich cultural background.
At one time almost the whole moor would have been forest land but from around 10,000BC small groups of people, who wandered the land hunting and gathering began clearing the area so that animals would be encouraged to graze, and so make hunting easier. Over time the trend of life became more settled and people set up home in groups, hunting and farming the land (circa 2500-600 BC).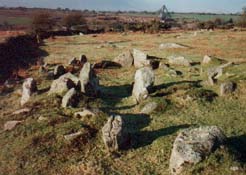 During the Bronze age most of the area was cleared and clear evidence remains of different aspects of life in this age - fields, farms, burial places and 'ritual sites' (stone rows, circles and standing stones).